11. Dezember 2014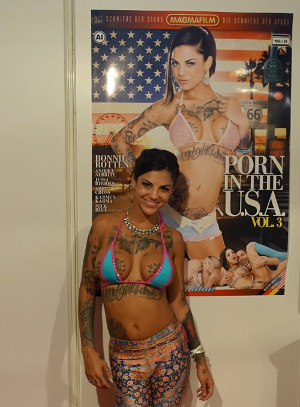 Als Alaina Hicks, so ihr bürgerlicher Name, wurde Bonnie Rotten im Mai 1993 in Cincinnati (Ohio) geboren. Sie wuchs in Hamilton (Ohio), bei ihren Großeltern auf, von denen sie großgezogen wurde. Bereits im Alter von 12 Jahren soll sie, ihrer eigenen Aussage nach, ihre ersten sexuellen Erfahrungen mit einem Jungen gehabt haben und mit 16 Jahren ihr erstes Erlebnis mit mehreren männlichen Partnern.
Sie verließ Ohio und begann als Model und Tänzerin bei verschiedenen Automobil- und Motorradshows zu arbeiten. So konnte sie auch ihre sexuelle Offenheit weiter ausleben. 2011 wurde sie als Fetischmodel für das US-Magazin Girls and Corpses entdeckt. 2012 begann sie als Bonnie Rotten ihre Karriere in der Hardcorebranche, sie war damals süße 18. Noch im gleichen Jahr wurde sie bei den NightMoves Awards mit zwei Preisen ausgezeichnet, einmal für ihre Präsenz in den Sozialen Medien und zum anderen als Best Ink, ein Preis für ihre Tattoos. Bonnies Körper verzieren mehrere großflächige Tattoos, stetig werden neue hinzugefügt. Ihren Künstlernamen, soll sie von einem ihrer Tattoos abgeleitet haben, von einem Zombie-Pin-Up Girl, dass sie auf der Rückseite ihres rechten Beins tatowiert hat.
Digital Sin produzierte zwei erfolgreiche Filme mit ihr, 2012 ?Meet Bonnie' und 2013 ?The Gangbang of Bonnie Rotten', der mehrfach ausgezeichnet wurde. Sie trat vor allem in Filmen der Genre Alternative Porn und Tattooporn auf, so produzierten Jules Jordan Video, Elegant Angel und Evil Angel entsprechende Filme mit ihr. Für Studios wie Digital Playground oder Wicked Pictures wirkte sie auch in Spielfilmpornos mit wie zum Beispiel ?Sexspionage', ?The Candy Striper' oder ?Beyond Fucked - a Zombie Odyssey' in dem sie die Hauptrolle, eine Kopfgeldjägerin, spielte.
Dieses Jahr startete sie dann noch einmal so richtig durch, sie unterzeichnete nicht nur mit Girlfriends Films einen Vertriebsvertrag sondern startete mit Mental Beauty Inc. ihre eigene Produktionsfirma. Dementsprechend wurde sie dieses Jahr mit Auszeichnungen überhäuft, sie erhielt bei den AVN Awards in Las Vegas den Award als Female Performer of the Year, bei den NightMoves Awards wurde sie ebenfalls als Performerin des Jahres ausgezeichnet und bekam noch den Preis als Best Ink., dazu erhielt sie noch einen xrco Award, einen xbiz Award und einen Preis beim Festival de Cine Erótico de Barcelona. Sie feierte außerdem mit den Filmen ?Anal Candy Disco Chicks' und den Spielfilmpornos ?Sisters of Anarchy' und ?Cape Fear XXX' ihr Debüt als Regisseurin.